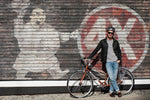 Even though commonly mistaken as a ladies bike, the Mixte frame with its twin top tube ensures it is strong, yet fairly lightweight. In Europe and Japan, they were ridden by both men and women, but in the United States and even Asia, they were clearly thought of as women's bikes. It's not as upright as the Dutchi, but it's still good for climbing hills, keeping with the flow of traffic while commuting and perfect for Dads who have their kid on the childseat at the rear of their bike; mounting the bike would be so much easier than on to the horizontal top tube of a typical mens' bike.
Written by: Anne Mathews
Mixte – Vintage Frame Design is the New Trend in Stylish City Bikes
The mixte – pronounced meext in French, but MIX-tee in English – is a step-through frame with a twist.