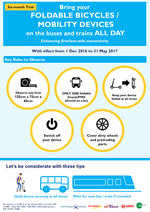 SINGAPORE — From Dec 1, commuters can carry their personal mobility devices (PMDs) and foldable bicycles on board trains and buses all day, said the Land Transport Authority (LTA) on Thursday (Nov 24).

The LTA said that it is embarking on the six-month trial with bus and rail operators. 

Currently, only foldable bicycles of up to 114cm x 64cm x 36cm are only allowed on board trains and buses during off peak hours.


With the upcoming trial, commuters also have the option of bringing PMDs of up to 120cm x 70cm x 40cm. 


Commuters must keep their their PMDs and foldable bicycles switched off and folded throughout the journey. Only one PMD or foldable bicycle is allowed.


The LTA also said foldable bicycles and PMDs are not allowed on the upper deck of a bus, or on the staircase leading to the upper deck.


Mr Jeremy Yap, LTA's Deputy chief executive for public transport, policy and planning, said: "This initiative integrates active mobility with our public transport system, and brings us closer to our aspiration for walking, cycling and riding public transport to be the best way to get around in Singapore."
Original source: Today Online
http://m.todayonline.com/singapore/foldable-bicycles-pmds-be-allowed-all-day-public-transport
Video: Hello, Bicycle!